What Is The SEO Process: The Process of SEO
The Process of Search Engine Optimization Methodology
Search Engine Optimization Process Methodology
The Process of SEO Summary ~ The process is primarily about links and content, both on-site and off-site, and how the two components interact with one another to create useful keyword relationships and user experience relationships.
Our SEO consulting services package starts with interviewing the business owner to identify their company goals, #1 target market, and keyword phrases desired as beginning SEO process steps.
The process of SEO in digital marketing begins with a two-way interview, questioning, and answer session to address account set up and administrative procedures, plus more importantly identify the key team players in their digital marketing team. It's a discovery process.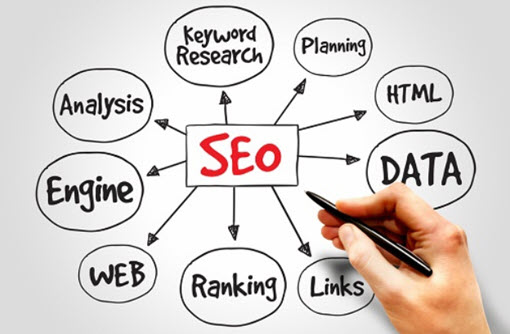 Learn About The Search Engine Optimization Process
The Process of Search Engine Optimization
SEO Process Steps
One of the first steps for On-Site or On-Page SEO is for your SEO to become an expert on your web site's current content (ie. text, images, video etc.), site architecture, and Google rankings, while also learning about the company's business goals in attracting their perfect customer. The best strategy, plan, and priorities determined will become the focus for taking plan steps towards creating a search engine friendly website.
One of the best ways for you to get involved in the various SEO processes is to sign up for some coaching or training classes from an SEO consultant that's familiar with the most productive and insightful analytical tools available online that work in conjunction with your internet marketing platform or WordPress template. We recommend WordPress design websites due to that particular marketing platform's easy-to-use and powerful content management system.
All websites have their marketing priorities along with specific action items which are included in SEO responsibilities crucial in the search engine optimization process.
Phase I – Step by Step SEO Process Guide Including Strategies and Tactics
Analyze > Strategize > Execute > Adjust
Identifies Target Goals and Target Market Desired
Go through an SEO Questionnaire Process
Keyword Research and Analysis is completed in this first phase
Online Competitive Analysis for Marketing Intelligence
Key Team Members (ie. people) are Agreed Upon for Project
Some marketing team members may need SEO training or coaching
Discover Exactly Whom is Going to do the Content Writing or Copy Writing- and is Training Needed?
Document Existing URLs and Navigation – New URLs will be Recommended in Most Cases
Communication on SEO Strategy and Search Engine Friendly Web Site
Sets Realistic Client Expectations and Approximate Budget
Collects Key Metrics and Account Analytics for Baselines in the SEO Website Audit
Begins Educating Client on Combining a Search Engine Friendly Web Site with Real Proven Marketing Techniques
Documentation of strengths, weaknesses, and priorities; plus separates work into Technical, Content, and Visibility (ie. Inbound Linking)
At a minimum, fully optimize the Home Page for All SEO Elements Visible and in the HTML Coding – including Internal Linking
Analyze whether existing site should be improved upon, or whether it makes sense to start with a new web site design for all the potential benefits a new website marketing platform can deliver, such as lowering future development and marketing costs.
Creates an Initial Search Engine Rankings Report for the Google search engine
Web site modifications and improvements to maximize search engine friendliness of web site
Phase II SEO Summary ~ Follow up SEO Consultation work will work on continuing to optimize more web pages, adding improved title tags and description metatags, and expanding overall content topics or content hubs with detailed topical coverage. In addition we'll complete the internal linking process, spend more time in Google Analytics and Webmaster tools analysis and will get into social media optimization and off-site SEO strategy.
Whatever tasks can't be accomplished in the first 6 hour SEO consultation will be completed in later phases depending upon how voluminous your web site is, how 'messed' up your site is, budget considerations, time constraints and schedules, and what's the main priorities needing attending to at the moment. It's always a bit of a back and forth communication process between the SEO professional – Business Owner – and Webmaster or Web Development personnel.
As an independent search engine optimization company, we offer on-site training and coaching for business owners marketing in the area around Denver, Colorado, plus in some cases will travel to other Colorado business locations.
Phase II Step by Step SEO Process Actionable Items
All Google Accounts Will be Fully Developed – Google Webmaster Tools – Google Analytics- Google + Local – Google+ Company Business Page Verification – Google XML sitemap submission – Documentation of Incoming Links Reported in Google Webmaster Tools
We offer a service to set up your Google accounts for business which is important for maximizing web visibility
Complete the Optimization of the Title Tags, Description metatags, H1 and H2 Tags minimum
Optimize the Footer and Sidebar Sections
Add content based upon Google Ranking Momentum and Content Deficiencies Identified
Begin some Strategic Link Building Activities for Inbound Links – for Local or National SEO
Business competing for Local SEO clients will have alot of new options for improvement with our SEO Expert Recommendations
Phase III SEO Summary ~ When your site is being discovered and found naturally in search engines the next step is more marketing and promotion via content expansion both onsite and offsite such as with Social Media and Link Building. It's critical to continue to be involved in quality, unique, and useful web content creation to keep up with your smart online competition. The best way to increase website visibility is to gain incoming links because you have amazing useful content which earns editorial links from other websites towards your key web site landing pages.
Phase III is An Ongoing Search Engine Optimization Program
Phase III Will Always Include Expanding Incoming Links to Meet the Competitive Challenge
We offer many different Effective Link Building Strategies for Successfully Competing Online
Further optimization and coversion analysis to optimize click-throughs to key landing pages
Social Media Optimization will definitely become a key element of our web site visibility strategy.
In all phases of the step-by-step SEO Process close attention is paid to 'how Google likes or interprets your site' meaning does Google believe you have useful content to fulfill their searchers' needs. Studying Google statistics and metrics for your website enables us to take advantage of current momentum found, as well as work on generating new keyword phrase ranking momentum.
Starting in April 2012 it became very evident through Google's Panda and Penguin algorithm updates (eg. more than 500 individual algorithm updates and tweeks in 2012 alone) that the old methods of SEO are obsolete and can indeed get company sites penalized, demoted, or in extreme cases outright de-indexed for spam behavior both on and off-site that's contrary to Google Webmaster Guidelines), and publishing sub-par content is a recipe for less organic traffic.