Denver Local SEO Services: Affordable Local Search Engine Optimization Services
The Best Denver Local SEO Search Marketing Services. Local SEO Consultant for Business - Denver, CO Region.
► Work Directly With A Local SEO in Denver
► 3 hours Billed Monthly for 6 Months @ $150/hour
► Local SEO for ANY City in the USA
We help customers find your Colorado single location or multiple location business, mom-and-pop shop, brick-and-mortar business, or service area business with Denver local search engine optimization company techniques and consulting at affordable Local SEO Pricing.
Get started generating leads in your nearby geographic service area in proximity to your business.
➢ You Need a Seasoned Local Marketing Expert on your team that offers affordable local search engine optimization services with expert credentials. We help you rank in the three-pack search results (local pack) for business with a physical location or for your service-area to attract a local audience.
➢ As a top local SEO agency in Denver, we offer clients 10,000 hours of hands-on campaign experience with a proven track record of generating local SEO rankings that outranks competitors in the Google Local Pack or Snack Pack for geo-targeted keywords.
➢ Read This Brightlocal.com Article! : How Much Should My Denver Local SEO Agency Charge Colorado Clients for Local SEO Services?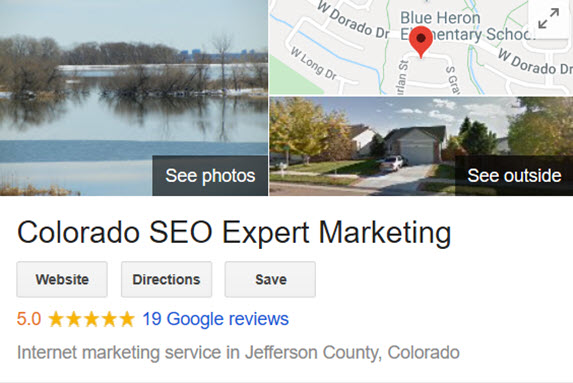 We have Flexible Local SEO Pricing Options for Clients: Pricing options include hourly services, monthly packages, per/hour Affordable Local SEO Services, Pay-For-Performance, or pricing per page that includes improving local content creation!
Examples of local businesses that benefit: lawyers and law firms, accountants, medical services, e-commerce sales, automotive, chiropractors, real estate agents, heating and air conditioning (HVAC), plumbers, painters, bars & restaurants, and all home repair companies.
Affordable SEO Services In Vail, Boulder, Denver, Littleton, Lakewood, Morrison, Golden, Colorado and surrounding areas.
Does Your Colorado Local Business Need To Get Found Online?
Hire a Denver Local SEO Company for ALL Local Search Marketing Services
Avoid inexperienced amateurs, mass-market companies, expensive ongoing monthly contracts, 20-somethings and "one size fit's all" marketing programs for your local marketing needs in favor of valuable services such as monthly SEO reporting . We help you bring more foot traffic and get more local customers while increasing customer loyalty.
YOU need seasoned SEO Expert Consultation: This includes Google knowledge graph or knowledge panel optimization, superior execution through all phases, local listings citations, local business schema markup, powerful incoming links, and innovative local search marketing expert consulting for the best ways to beat your competition. Our goal working together is to increase Google local presence, Google rankings and visibility through generating new business leads and higher-trending foot traffic into the door of your local business!
We specialize in serving Colorado small business companies from Denver, Littleton, Lakewood, Aurora, Boulder, Highlands Ranch, Morrison, Ken Caryl Valley, Vail, Colorado Springs, and Fort Collins, Colorado located along the Front Range. Kevin Yeaman, Colorado SEO Expert Marketing owner and Denver Local SEO Expert: "I help Colorado businesses get discovered via boosting their Google search engine visibility in the local map results!"
Local Search Ranking Visibility Factors Need To Include:
Proximity– Distance from a searcher to a business entity in a specific geographical area.
Relevance – Organic SEO topical relevance coverage.
Prominence – Domain Authority + reputable incoming links.
➢ Local Search Engine Optimization Services. Local SEO Packages can be a one-time service, or implemented over a six month period which takes advantage of ongoing fresh Google Analytics data metrics which is invaluable for making local marketing decisions. Our local marketing agency specializes in serving both business-to-consumer (B2C) and business-to-business (B2B) Colorado clients helping them to rank higher in their service areas for targeted keyword phrases paired with geographical modifier keywords such as Denver Local SEO, or Local SEO in Denver which are our local keyword phrases.
Services: Review Management, Apple Maps Listings, Targeted Geographical Campaigns, Creating New Citations & Local Listings for Neighborhoods, Cities and Towns, Landing Pages, Schema Markup, More Local Pack or 3-Pack Visibility, Keyword Research, Google Maps, Improving Online Presence, Consulting.
➢ 6-Hour Flat Fee or Ongoing Monthly SEO Programs. We offer a 6-hour Initial SEO Consultation Service which includes a technical SEO website audit, priority recommendations, and making consulting recommendations for establishing an SEO-friendly website. Next we move on to detailed optimizing and local search consulting. All Ongoing 6-Month SEO program campaign packages include both off-site promotion and on-site optimization work to improve local search presence, help generate positive reviews, boost business listings visibility, improve structured citations, take advantage of social media optimization and incoming links, and simply get more local customers.
Pricing from $750 for 6 Hours One Time Flat Fee on up depending upon requirements.
SEO Consultation. Discuss all local search engine marketing services, goals and strategy, preferred target audience, highest profit margin products and services to promote, traffic acquisition priorities, and the best methods to implement for location-based-marketing.
Benchmarking & Recording Baseline Metrics. Document current online baselines and benchmarking measurements on 10 key ranking factor elements that have major influence on sites getting displayed in the local search results.
Technical SEO – Website Review & Analysis – Website review audit for organic and local marketing analytics. Identify competitive strengths and weaknesses for desktop and mobile devices. You can't move forward if technical elements or problems are holding you back such as an incorrectly configured Robots.txt file, broken links, poor On-Site SEO optimization, in-congruent local business citations, duplicate content, 404 code errors, or excessive HTML code to text ratios.
Google My Business Page Profile Review or Set-up. Initial Set-up, enhancement and localized keyword optimization of your Google My Business listing. Yahoo and Bing Places for Business local listing verifications. Improve quality and relevancy of GMB page adding photo images. Create, build out, and add visual content. Google Maps Optimization to include verify, create, and optimize Google maps presence. Choose the best small business owners categories for Google My Business Profile. For local business citations add correct business categories and taglines for brand awareness and to improve local brand visibility. Optimize descriptions and add hours of service and photos for professional knowledge panel display results.
Local Business Schema Markup. Beyond securing reliable WordPress support services you need to install structured data markup via schema, KML file, and JSON-LD microdata including longitude and latitude geocoordinates. Submit XML sitemap to Google Search Console, verify and publish accurate Google map and business hours.
Keyword Analysis, Research + Review. Delineate high-volume keyword topics and supporting long tail keywords for optimizing content silos, site structure, & optimal main menu navigation. Identify the best keyword phrases to maximize search rankings in your city, service area, or community.
Social Media Review + Recommendations. Review current social media strategy and social signals status. Make priority recommendations for enhancing visibility of tier 1 social media accounts appropriate to your business niche. Work with client regarding publishing and promoting social media content and building relevant links into main website.
Online Competitor Assessment. Competitor citation analysis identifies top competitors in your business niche for targeted keywords that are dominating search rankings in your service area. Reverse-engineer their online competitive advantages. Evaluate possible needs for Local Citation Management and Audit Cleanup Service.
Regional Business Listings and Directories. For an organic link building strategy, submit business profiles to Colorado cities and regional directories that matter most: eg. Denver, Littleton, Arvada, Aurora, Lakewood, Highlands Ranch, Englewood, Centennial, Aspen, Vail, Ft. Collins, Boulder, Longmont, Loveland, CO. We use Local Citations Finder tools to diagnose and identify the exact prioritized listings your business needs! Avoid paying for ongoing expensive and unnecessary monthly business locations listings management software platforms, tools, and portals such as Yext.com.
On-Site On-Page Optimization: Ensure local content marketing topics and keywords are included on key areas of your website such at title tags, and header tags identifying city and state names where business operations are concluded. Consider the value of publishing a geotargeted landing page.
Online Business Reviews from Customers. Includes consultation on the best methods for earning more positive online reviews from customers to build your brand and control online reputation management. Avoid expensive business review management software platforms that waste your money.
Set-Up High Authority Business Profiles – for Customers to Post Local Business Reviews and to list your business on such as with high authority Internet Yellow Pages Sites, or other reputable Colorado business listings sites: Yelp – Merchantcircle – Superpages – Citysearch – Hotfrog – Insiderpages – Manta – Bing Places for Business – Bizjournals – Yahoo! – Angie's List – Yellowpages – Citysquares – CitySearch – Mapquest – Kudzu – Merchantcircle – Internet Yellow Pages – Foursquare – Facebook Rating & Reviews – OpenTable – Supermedia – Mojopages – TripAdvisor – Bestoftheweb – Yellowbot – Better Business Bureau et al, or claim three existing published business profiles which includes conducting business verification and authentication for business name, address and phone number (NAP), or submit to local mapping systems data sources such as Tom Tom or GPS systems data aggregators.
Business Listings & Citations Consistency Audit Deploy diagnostics software to analyze and audit the consistency of unstructured and structured citations for company information accuracy and consistency published on important data aggregator sites such as Neustar/Localeze, Acxiom, Infogroup, DexKnows, and Factual. In addition we'll confirm who has management or administrative privileges and access to critical business profile accounts like Google My Business, Yahoo Local, and Bing Places to control key business profiles. Also submit geo-tagged photos to geo tagging images websites.
NAP Consistency & Accuracy Consultation. Audit for Name, Physical Address, Zip code, and Place (NAP) consistency of key Google Pack listings citations to achieve improved structured citations and local business listings consistency for either single or for multiple physical locations associated with the city centroid. Avoid the use of 1-800 or call tracking numbers.
Local Business Landing Pages recommendations are included for focusing upon geo-targeting of neighborhoods and zip codes for all business locations. Together we work to create reputable local landing pages and city pages that deliver a unique quality user experience to visitors while staying within Google Quality Guidelines.
Kevin Yeaman, one of the best local SEO experts in Colorado, would be glad to meet you in person or talk via telephone at no cost for an initial consultation and website audit/review! If you're still undecided about the best step-by-step process to gain Google visibility for your local Denver, Colorado business, call for a few minutes of free friendly expert advice, or consider giving us the opportunity to quote on your website development and local search marketing needs or for an entirely new responsive website redesign.
Our goal is to offer Colorado businesses owners exceptional-value and high quality internet marketing services for maximum value at competitive prices. All Denver local search marketing services are aimed at: helping clients attract more customers locally; helping customers earn more Google local maps traffic; generate more local sales; and create more foot traffic into their Colorado local brick and mortar businesses.
Contentmarketingspot.com provides businesses with competitive intelligence, localized content creation, advanced search engine optimization consulting services, choices of SEO marketing programs, directory listings, website audit and reviews, custom website design services, video marketing and video production services, on-page conversion rate optimization strategies, and expert digital marketing agency strategies aimed at helping clients surpass online competitors.
If you have a local business or small business in the Denver area you definitely need local SEO services to get found in Google Maps. Our Local SEO Consultation packages focus upon all the 2020 Local SEO Factors that top search engine marketers use including Local SEO Rankings for: business citation audit and cleanup services for duplicate or inaccurate listings data, social media optimization, canonicalization check, NAP promotion, online business reviews ideas, robots.txt file evaluation, and building up your Google My Business page profile visibility and validity.
With client input, we'll determine how to discover the EXACT keyword phrases that trigger Google local map listing results for your website which is valuable marketing intelligence used to integrate local search ranking factors into both on-site and off-site content, and into social media profiles.
All United States businesses targeting city, state or geographical boundaries, such as for Denver local search marketing services, should work with directly with an online marketing expert (ie. Kevin Yeaman) with a proven track record in their community.