What's The Best Long Tailed Keyword Strategy
What Are Long Tailed Keywords?
Long Tail Keyword Research & Ranking Strategy
When publishing web content or optimizing content for SEO, consider how to create as many competitive advantages as possible with a keyword ranking strategy that's proven by organic SEO specialists.
Keyword strategy is an important component and competitive weapon if you're looking for how to rank your website consistently. Some people call it synergy; we just call it 'getting the most bang for the buck". Publish a wide variation of long tail keyword phrase variations that support the primary content topic or theme. One of the best keyword research strategies is to use one or two head keywords in a page title and then sprinkle multiple variations of closely-related topic long-tailed keywords into page paragraph sub-headings.

Keyword Research, Targeting & Density
Organize Web Content Into Main and Sub-Topics or Sub Headings
By organizing web content in a hierarchical manner similar to an outline, and by including closely-related search term topics, better web pages can be designed, written, and published.
Integrating long-tailed keyword research into paragraph headings using header tags (H1, H2, H3) in paragraph headings can lead to higher search engine rankings positions, improved reader engagement, and increased domain authority realized after earning incoming links on sharable content. Additional benefits of organizing website content correctly include a lower bounce rate, getting more targeted business leads, and realizing a higher call-to-action click through ratio.
Business owners have a higher probability of attaining valuable organic search engine traffic by publishing organized website content. If you learn how to research keywords the right way applying it consistently in your keyword research strategy, your research results can be used for writing all types of web content including web pages, published articles, landing pages, and blog posts, not to mention the research also becoming invaluable for use in pay-per-click paid search advertising.
Long Tailed Keywords – How To Find SEO Keywords
The best keyword research strategy of grouping related long tailed keywords logically into a single, in-depth, web document provides you with a competitive advantage that can drive search engine traffic quickly, versus less effective keyword strategies that only target high-volume highly-competitive search traffic.
Head keyword marketing verticals are too mature and competitive to gain top three Google rankings without investing a ton of money and time writing content and working both on page and off page. Finding keywords and learning how to use keywords are invaluable content marketing skills. If you need to find the best keywords for SEO, some testing, experimentation, and long tail keyword research is needed. Experienced content writers use the long tailed keywords strategy to achieve numerous valuable keyword rankings on a single web page resulting in more page sessions and page impressions reported in Google Analytics as well as likely yielding higher search engine visibility.
In-depth content that keeps human visitors on the webpage longer is what you're trying to accomplish. Local businesses may want to discuss strategies local SEO specialist due to additional layers of complexity with local search.
Results of Integrating Long Tailed Keyword Research into Web Content
What Are Long Tail Keywords? Long tailed keywords are characterized by having lower monthly search volume, yet often yield higher-qualified leads with generous traffic for search terms such as "southern colorado land for sale" versus a head keyword such as "colorado land."
Long Tailed Keywords Strategy
Web Content Ideas – Start with an idea or information that your readers genuinely need to hear about or ask questions about. Think …..frequently asked questions. Your keyword strategy for SEO should closely mirror content topics that you have genuine expertise on, otherwise consider hiring a outside web copy writer to write targeted content, or seek further consulting advice on how to find long tail keyword phrases for topics that match your subject knowledge.
Conduct Keyword Research & Analysis – Focus upon long tailed keywords, versus head keywords, to get the highest web visibility quickly – because it's easier and begins getting you traction! Keywords should be placed in the URL, title tag, Header tags, graphical images file names, and headings above paragraphs.
Organize Web Content – Organize web content into hierarchical structure is one of the best SEO strategies for website information architecture. Create a content outline consisting of two to five specific sub topics per article separated into paragraphs. Integrate long tailed keywords into paragraphs and place a title with header tag attributes (ie. H1, H2, header tags etc.) above each paragraph. Modify content by adding bullet points, bold, images, font colors, and underlines to increase visual appeal.
Headline Writing – Without a compelling headline your content is doomed. Take extra time to write compelling headlines, otherwise, people won't click through. Copy writing headlines requires a lot of creativity, but it's easy to find great information on the headling writing topic.
Web Content Editing and Re-editing – Write and publish the initial web document. Then spend some editing time to go over it again and again, each subsequent version should improve message quality and focus. Longer content is better as long as it's relevant and susccinct.
How To Do Long Tailed Keyword Research
If you're asking yourself how do I find keywords for my website, over the years I've gone back and forth from publicly available keyword research tools such as the Google Adwords keyword tool, to paid proprietary keyword research software tools such as Market Samurai, Wordtracker, Semrush, and Raven Tools.
When looking for how to find SEO keywords, most tools work sufficiently once you understand the objectives you're trying to accomplish through broad match, exact match, and phrase match.
Google Adwords Tool Keyword Research Choices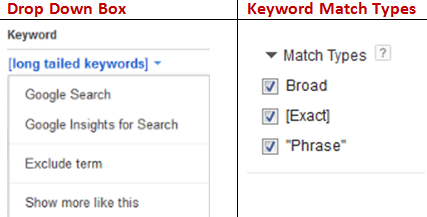 Google Searches relating to 'long tailed keywords'
 To stay safe, write good quality purposeful content that's not spammy and provides high relevancy towards answering search queries.
When trying to learn the SEO basics for keyword research, the end goal should always be to create purposeful content that solves customer search queries, which will ultimately lead to lowering customer bounce rates and achieving higher search engine rankings. Track and measure website analytics otherwise you're flying blind.